Murphy High School - Center for International Studies
Applications are due by February 17, 2012.
C.I.S. Information Table of Contents: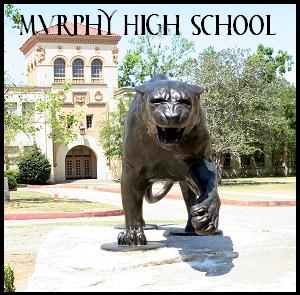 Introduction
Located on a sprawling forty-acre campus at 100 South Carlen Street near downtown Mobile, Murphy High School boasts a proud tradition of excellence. Fourteen Buildings accommodate in excess of 2,400 students and 150 faculty and staff members. In 1982, Murphy High School was placed on the Department of the Interior's National Register of Historic Places.
In 1834, the first public high school in the state of Alabama opened its doors in Mobile. In 1926, the students were moved to a new facility built in what had been a cabbage plantation on the edge of town. The new Mobile High School was shortly thereafter named for the late Superintendent of Schools, Samuel S. Murphy, who had served in the Mobile community for over 25 years.
Murphy High School is a charter member of the Southern Association of Colleges and Schools, the official accrediting agency for the southern states. In 1929 Murphy was the 71st high school in the nation to have a chapter of National Honor Society. More recently, the school was selected as a permanent member of the College Entrance Examination Board and was also designated as a Model High School for the Nation by the U.S. Department of Education. In 1985 Murphy's administration and faculty began work to bring the International Baccalaureate Program to the school. Murphy affiliated with IB in 1992 and awarded the first IB diploma in 1993. In 2003, a committee composed of administrators, faculty, and members of the Mobile community proposed that Murphy High School became a Themed School with the designation Center for International Studies. The proposal had been well received by the board of School Commissioners and the District's administration. The first students were accepted into the program in the fall of 2004. Murphy High School has continued a strong academic focus since its beginnings more than 150 years ago and will continue to serve the people of Mobile County in the new millennium.
The Center for International Studies has been initiated to serve several identified needs:
To offer to all Mobile County students an opportunity to meet the highest international academic standards through participation in the International Baccalaureate Program.

To have available for all students a substantive college preparation program.

To have a number of designated pathways that students may pursue to explore broad career areas in an international college preparation program while still in high school.

To offer to our community an opportunity to study global issues and to gain an international perspective in life.
Admission Criteria
The Murphy Center of International Studies will accept qualified students from throughout Mobile County. Applications should be completed in the spring of the students' eighth grade year. (See appendix A) Criteria for selection are as follows:
Center for International Studies
There will be three criteria: 7th grade SAT scores (minimum overall 70 percentile), academic grades (6th through mid quarter of grade 8 – 3.0 minimum) and teacher recommendations.
SAT Scores: These scores will be a comparable indicator for all applicants.
Academic Grades: These scores will provide an indicator of success that a student has had in accommodating the academic work in a particular academic community.
Recommendations: Each student will be asked to supply two recommendations, one from the English teacher and one from the Math teacher. Recommendations will be both narrative and quantitative in form.
Discipline: Students cannot have more than two suspensions (in-school suspension or out of school suspension) in the last year.
RACE and GENDER will not be criteria for admission. However, every reasonable effort will be made to maintain a balance of race and gender that reflects that of the greater community.
Selection Process
Center for International Studies
The principal will appoint a selection committee of 3-5 members consisting of one central office official, a site-based educator, two retired educators, and one local business person working in the international arena.
The committee shall:
1. Rank all candidates blindly according to SAT scores along with GPA and quantitative recommendation values.
2. Use grades and recommendations to review anomalies such as high SAT scores accompanied by lower academic grades or the reverse situation. The committee will make a determination for placement based on this review.
Program Planning
Program planning will provide more than thirty-two courses to be made available to students in the CIS program during their four years at Murphy High School. These courses have been grouped along particular content lines for the four years a student will be at Murphy. The aim of any one of the plans is to prepare the student for:
Smooth entry into the job market.

Post-high school education (apprentice programs, business schools, technical and trade schools, or community college)

Admittance to a four-year college program leading to the bachelor degree.
The plans include:
International Studies – The International Baccalaureate Program

International Studies –

Liberal

Arts

College

Preparation

International Studies – International Business and

Marketing

College

Preparation

International Studies – Travel, Tourism and Hospitality Services Preparation
An outline of these plans may be found in Appendix B. Each of these plans is characterized by a systematic review of each participating student's past achievement and re-evaluation of his/her goals. Students will be encouraged to appraise his/her academic needs each year and to plan deliberately with the assistance of parents, counselors, and teachers.
For the Application and Appendix A/B, please view the forms section.