Murphy High School will provide an academic setting that prepares students to become college and career ready.
The purpose of the Mobile County Public School System is to equip college and career ready graduates.
Murphy High School History
Located on a sprawling twenty eight-acre campus at 100 South Carlen street near downtown Mobile, Murphy High School is a proud tradition of excellence. Fourteen buildings accommodate approximately 1,400 students and 110 faculty and staff members. In 1982, Murphy High School was placed on the United States Department of the Interior National Register of Historic Places.
In April, 1976 Murphy celebrated its golden anniversary as the oldest school in Alabama. Originally named Mobile High School, the name of the school was changed in 1927 to Murphy High School in honor of Mr. Samuel S. Murphy, who served as superintendent of schools for Mobile County from 1900-1926.
In days of old, when Spaniards bold
Were sailing Mobile Bay,
A dream was born, one early morn;
That dream's come true today.
Now colleges and high schools, too,
May have tradition old,
But none can boast the glorious birth
Of Murphy's blue and gold.
They built a shrine to knowledge fine.
They called it Murphy High
A soul was there, a soul so fair,
Whose spirit shall never die.
They took the blue of deepest hue,
The blue of southern sky,
They took the gold from sun so old,
The colors of Murphy High.
On ole Murphy, on ole Murphy
Run; right thru that line.
Run the ball around the goal post;
Touchdown sure this time.
RAH! RAH! RAH!
On ole Murphy, on ole Murphy,
Fighting for our fame.
Fight fellows, Fight! Fight! Fight!
We'll win this game
Designed by prominent Mobile artist Roderick D. MacKenzie and presented to the school by the Barton Academy senior class of 1920, the school seal is used on all class jewelry and other formal school material.
The seal shows a Murphy student in cap and gown pursuing his studies with the world before him. Standing at his left is Truth, whose mirror reflects the light of the knowledge of his work, while at his right stands Winged Victory, prepared to crown him with a laurel wreath for successful effort. Within the design the letter "B" is superimposed by the letter "A," standing for Barton Academy, which was founded in 1852 and is the predecessor of Mobile High School, renamed Murphy High School in 1927.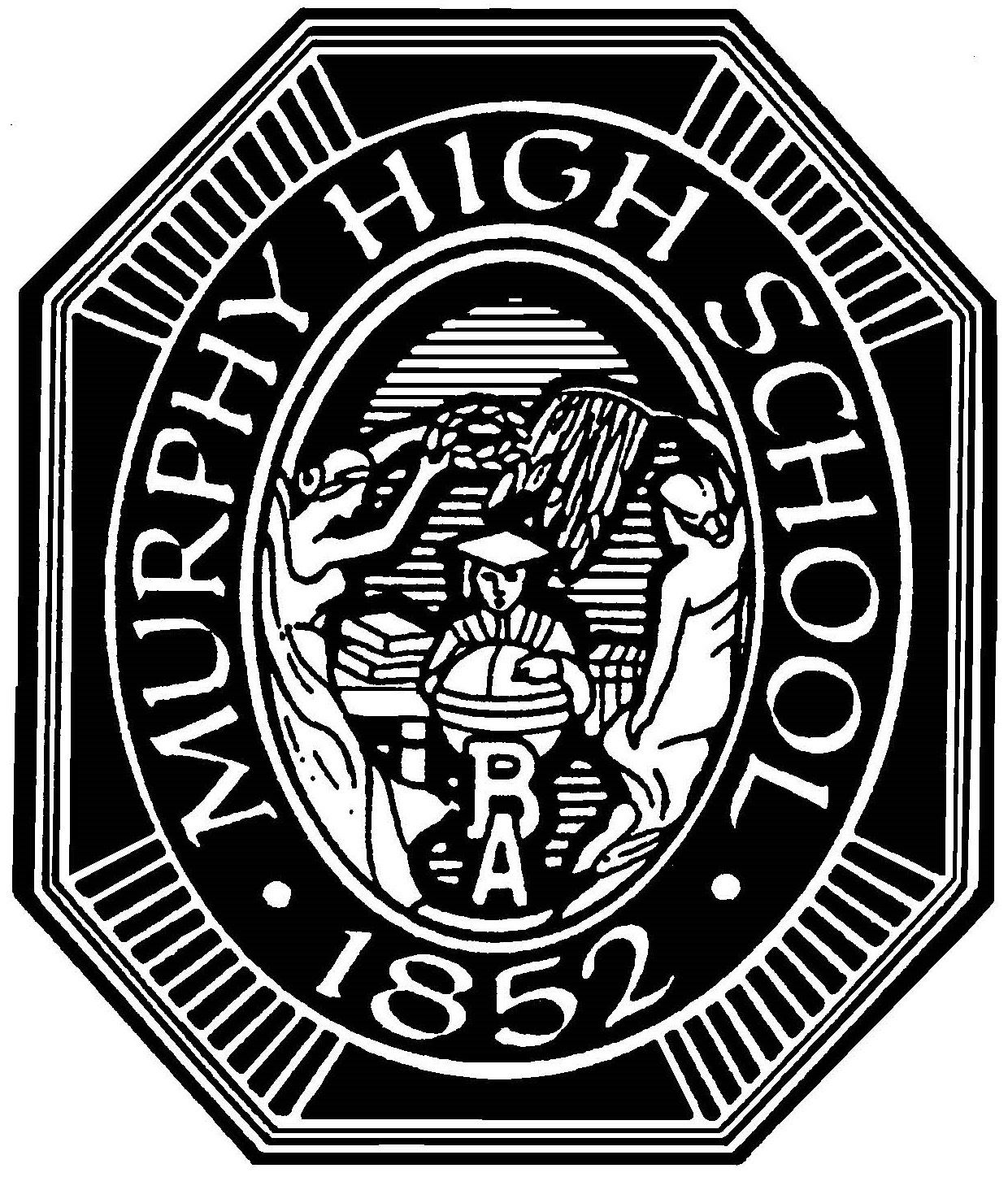 Let me remember that, if I am really to live, I must live my own life.
For when I pretend to be someone else, to claim someone else's ideas and knowledge, I am not actually living at all.
Let me be constantly broadening the horizons of my own understanding, my own knowledge, my own beliefs; striving to be, when each day dies, better than the morning found me.
Let me learn to be a giver in this school fellowship and not one who takes and only takes.
Let me seek to share my knowledge, my zeal, and my faith through service to those about me.
Let the light of my enthusiasm and friendship so shine that others may be guided aright.
Let me find my task and ever have the courage and persistence to do it.
Let me keep my standards on a plane that will be a credit to my home, an honor to my school, a strength to myself, and an influence for my Creator.
And, o'er all else, in the living of these high school days-let my life be a true expression of what "I" believe.