International Baccalaureate Programmes: The IB Program
What is an IB Education?
IB programs inspire a lifelong quest for learning, infused with enthusiasm and empathy. In addition to supporting cognitive development, IB programs address social, emotional, and physical well-being and encourage students to become active, compassionate, lifelong learners.
Why choose IB?

IB Diploma Program students are 21% more likely to be admitted into 10 of the most prestigious universities, including Harvard, Princeton, Yale and Stanford.

It's a qualification recognized by schools around the world.

The IB Diploma is internationally benchmarked, allowing graduates to continue their studies anywhere in the world.

IB encourages critical thinking, creates independent learners and strong writers.

Inquisitiveness and interpretation are among the key cognitive properties of an IB education.

The Extended Essay requires independent research in an in-depth study and a 4,000 word essay.
Murphy IB Program & Student Success:
Second oldest IB program in the state of Alabama.
Only IB school in the Southern portion of the state with a CP program.
Average ACT score of 29.
Every senior in the class of 2020 received merit based scholarship money towards financing college
2020 graduates earned an average of 35 college credits through IB, AP, dual enrollment, and UA Early College.
IB graduates from 2011-2020 have attended universities such as: Yale, Northeastern, Tulane, King's College, Harvard, Bethune-Cookman, Vanderbilt, Sewanee, University of Alabama, University of Alabama Birmingham, Auburn University, Spring Hill, University of South Alabama, Birmingham Southern, Valdosta College, Wake Forest, Columbia University, Duke University, and Howard.
Mission Statement:
Through comprehensive and balanced curricula coupled with challenging assessments, the International Baccalaureate Program…endeavors to develop the individual talents of young people and teach them to relate the experience of the classroom to the realities of the world outside. Beyond intellectual rigor and high academic standards, strong emphasis is placed on the ideals of international understanding and responsible citizenship, to the end that IB students may become critical and compassionate thinkers, lifelong learners and informed participants in local and world affairs, conscious of the shared humanity that binds all people together while respecting the variety of cultures and attitudes that makes for the richness of life.
PreIB and IB Fee Payment:
Online fee payment click here.
For additional fee information, please contact Rebecca Mullins, IB Coordinator.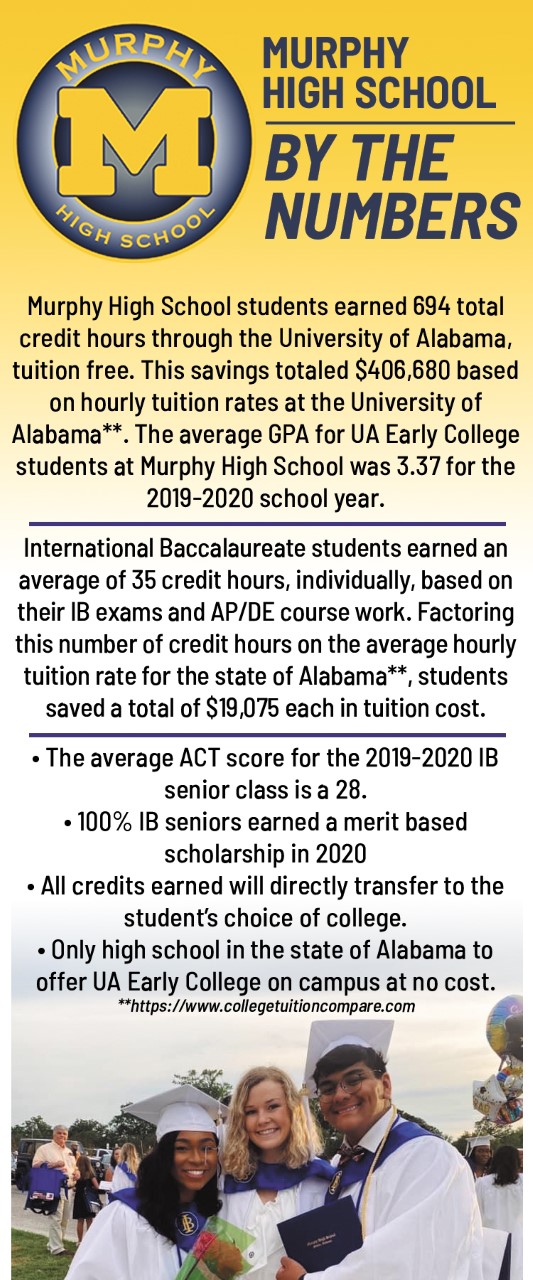 IB graduates say it best:
"Different volunteer opportunities that were required for CAS hours helped me with learning how to take directions from organizers and execute tasks appropriately, which are essential skills to participating in the workforce."Rodah Wangondo, Murphy IB Class of 2011
"The IB curriculum is much more in depth and not based on simple memorization; it helps with the critical thinking skills needed in college." Maria Trejo, Murphy IB Class of 2016
"I did both IB and UA Early College, which is what I recommend over taking each program by itself. The IB program gave me bigger picture skills, research skills, and helped me learn and think holistically. Early College just gave me credit. When combined with IB and AP credit, I entered the University of Alabama with 41 total credits and sophomore standing." Shannon Anderson, Murphy IB Class of 2017

Are you currently at Murphy and interested in IB?
9th and 10th Grade Prerequisite Courses:
Algebra HR (9th grade, if not completed in 8th)

Geometry HR (9th)

Algebra 2/Trig HR (10th)

English 9 HR

English 10 HR

Biology 1 HR (9th, if not completed in 8th)

Chemistry HR (10th)

AP World History (9th)

AP European World History (10th)

3 Foreign Languages (Spanish)

Career Preparation (9th)

Health (10th)

Physical Education/JROTC/JV Athletics
Admission Requirements for 11th Grade Diploma Program:
Successful completion of prerequisite courses
Benchmark level 4 on ACT Aspire OR
90th percentile on other standardized exam
Teacher Recommendations
Personal interview
For additional information, please contact IB Coordinator, Rebecca Mullins.