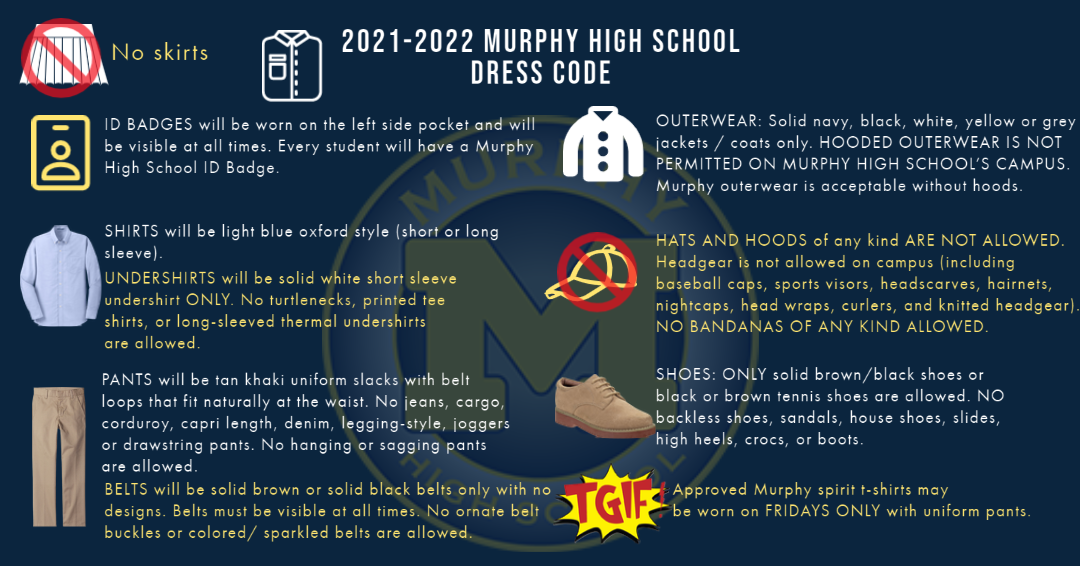 ID Badges
ID badges will be worn on the left side pocket visible at all times; Every student will have a Murphy High ID Badge.
Shirts
Light blue oxford style (short or long sleeve) shirt.
Undershirts
Solid white short sleeve undershirt ONLY. No turtlenecks, printed tee shirts, or long-sleeved thermal undershirts are allowed.
Pants
Tan khaki uniform slacks with belt loops that fit naturally at the waist. No jean, cargo, corduroy, Capri length, denim, legging-style, or drawstring pants. No hanging or sagging pants are allowed.
Belts
Solid brown or solid black belts only with no designs. Belts must be visible at all times. No ornate belt buckles or colored/ sparkled belts are allowed.
Outerwear
Solid navy, black, white, yellow or grey jackets / coats and sweatshirts without hoods. HOODED OUTERWEAR IS NOT PERMITTED ON MURPHY HIGH SCHOOL'S CAMPUS. Murphy outerwear is acceptable without hoods.
HATS AND HOODS OF ANY KIND ARE NOT ALLOWED
Headgear is not allowed on campus (including baseball caps, sports visors, headscarves, hairnets, nightcaps, head wraps, curlers, and knitted headgear). NO BANDANAS OF ANY KIND ALLOWED.
Shoes
Only solid brown/black shoes or tennis shoes are allowed. NO backless shoes, sandals, house shoes, slides, high heels, or boots.
Fridays ONLY Approved Murphy spirit t-shirts may be worn on Fridays only with uniform pants.