Courses Taught:
Transition Services II
Career Preparation 12
Community Based Work Instruction
AAS: Community Based Instruction 11
US Government, LS IV / US Economics, LS IV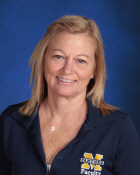 I was born and raised here in Mobile. I attended Murphy High School 9-12. I love going to the beach and spending time with my family. I have been blessed with two beautiful daughters (also teachers) and four precious grand children. I am excited to begin my 23rd year of teaching here at Murphy. I graduated from MHS in 1978, and went on to South Alabama to receive my Bachelor's Degree in Special Education k-12. I began teaching in Fulton County,GA in 1982 and taught a k-3 Behavior Disorders class for 2 years. After moving back home, and raising my daughters, I was the Resource Program coordinator at St. Pius X Catholic School. I then taught Adaptive PE for MCPSS, and from there started my years here at Murphy. While teaching at at MHS, I have coached Swim & Dive, JV volleyball, JV cheer, and Varsity cheer. I have been the transition teacher for the past 14 years and am blessed to do what I love everyday.